Our professional staff at InStride Foot and Ankle Center of Durham seeks to provide a comfortable and informative experience for all of our patients. Please read the staff bios below to familiarize yourself with our team members.
Our Doctor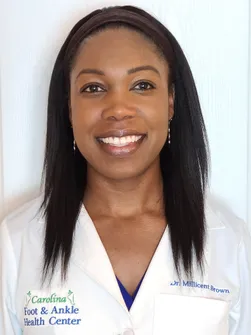 Dr. Millicent Brown
Dr. Millicent Brown is originally from Long Island, NY. She completed her undergraduate studies at Howard University in Washington, DC. After earning a Bachelor's Degree in biology, Dr. Brown decided to continue her academic pursuits. She earned a Doctorate of Podiatric Medicine from Temple University in Philadelphia, PA. She completed a three-year podiatric surgical residency at Providence Hospital and Medical Centers in Southfield, MI. The program provided training in advanced wound care that incorporated hyperbaric oxygen therapy. Her training also included reconstruction of advanced foot and ankle deformities that were related to trauma, systemic disease and genetic abnormalities. Dr. Brown performs surgery at Duke Davis Ambulatory Surgery Center, Duke Regional Hospital, and North Carolina Specialty Hospital.
Dr. Millicent Brown is Board Certified by the American Board of Podiatric Medicine. She is also Board Qualified by the American Board of Foot and Ankle Surgery. Dr. Brown is certified by Healogics Undersea and Hyperbaric Medical Society in Hyperbaric Medicine and Problem Wound Management.
Memberships:
Durham Jaycees
Granville Chamber of Commerce
Lawrence and Artelia Perry Scholarship Fund
Speaking Engagements
Does your group need a speaker? Dr. Brown speaks at events held by civic organizations, churches, schools, and other groups.
Available Topics
Diabetic Foot Care This is a must hear lecture for people with diabetes. It discusses how to prevent foot problems that could lead to loss of toes, feet, limbs, or life.
Happy Healthy Feet This talk discusses common foot problems and how to manage them.
Women Walking Powerfully This lecture is geared towards foot problems commonly experienced by women. It provides useful information on how to handle them. It infuses information that empowers women to be active participants in their health.
What is a Podiatrist? This lecture is great for children or young adults who want to learn more about a career in podiatry.
---
Our Staff
Receptionist: Mariam is a friendly welcome and a warm farewell as you visit our practice. She is ready to schedule your appointment and assist with incoming calls.

Clinical/Office Administrator: Jenny helps create a calm and comfortable environment for patients. She assists with clinical care and administrative duties to help keep the office running smoothly and efficiently. Jenny also helps schedule surgeries.
Nail Technician/Clinical Assistant: Demetria provides medical grade nail care and medical assisting.
Billing Manager: Melinda heads the billing department. She manages insurance claims via our central office.
Marketing/Patient Relations: Stilwyn helps promote the practice by fostering relationships with the surrounding community. She circulates throughout the office assisting with the various functions of the office. As a floater, she is ready to help where needed.